Little Witch Academia: Chamber of Time, also known by its original Japanese title, Little Witch Academia: The Magic of Time and the Seven Wonders (リトル・ウィッチアカデミア:時間の魔法と七不思議 Ritoru Witchi Akademia: Toki no Mahou to Nanafushigi?) was released in Japan on the Playstation 4 on November 30, 2017[1] (Standard edition for ¥7,600)[2] and was projected to be released in early 2018 on PC[3] before officially being announced to coincide with the PlayStation 4 release outside Japan on May 15, 2018.[4][5] A limited edition version with additional material, including an audio drama and an artbook, will be released in Japan.[2]
Gameplay
Little Witch Academia: Chamber of Time is a side-scrolling action adventure game which features multiple characters from the series as playable characters.[6] Luna Nova Magical Academy can be explored and magic-infused attacks are used to navigate through monster-filled dungeons.
Plot
During the summer break from the academy taking place after the exams, a strange phenomenon known as "The Seven Wonders of Luna Nova" begins affecting the school. As Akko, Sucy and Lotte investigate the hundred-year-old anomaly they accidently break the seal on the Horologium Room, trapping them in an infinite time loop. They must now escape the loop as they are led to a rumored forbidden magic. [7]
Characters
Playable
Other
Limited edition
The following extras will be included in the Limited edition version (¥11,110):
[2]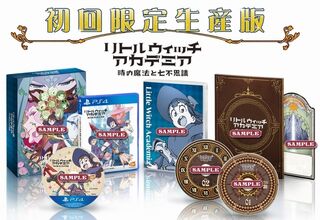 A copy of the game
A Trigger-illustration special-make box
Special contents Blu-ray disc
Drama CD
Specially-made art book
Game original Chariot card
[Warning] The japanese version doesn't have English translation yet !
Trivia
Gallery
Game boxes
Screenshots
Videos
Opening cinematic
Trailers
Opening cinematic
Gameplay
Extracted from video above... by Giuseppe's Gaming.
Miscellaneous
Audio from Bonus CD
References
External links
PS4
Steam (PC)
Reviews
News
2017 news