This article is a stub. You can help the Little Witch Academia wiki by expanding it.
Mrs. Yanson is a character in Little Witch Academia. She is a witch from Finland, owner of a magic item shop and Lotte's mother.
Appearance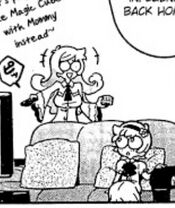 Mrs. Yanson is very similar to her daughter, except for being a little shorter than her. She has fair skin, blue-gray eyes and glasses that are identical to Lotte's. She wears a blue tunic that covers her entire body, a red shrug and a long dark purple veil on her head.
In the manga, her appearance is completely different. She's much taller and had a more busty appearance. Her hair is also shown, being somewhat similar to Lotte's except longer. She also wears a business suit along with a tie as opposed to wearing a blue tunic.
Personality
She is a sweet and kind woman. She is very respectful and considerate with her family and guests. She's somewhat easily jealous, separating her husband from his neighbor when Akko unintentionally put them in a position where they kissed, despite the three being almost immobilized by the Greenman Disease.
Plot
Relationships
Mrs. Yanson loves her daughter, Lotte, very much. She apparenty loaded Lotte a lot of things she may need when she was moving to study at Luna Nova Magical Academy. Mrs. Yanson also praises her daughter for being a spiritual witch.
Trivia
Her appearance in the manga is vastly different compared to her anime counterpart. The reason behind this is unknown.
Gallery
For more images related to Mrs. Yanson, see the file category: Category:Images of Mrs. Yanson.
References
Ad blocker interference detected!
Wikia is a free-to-use site that makes money from advertising. We have a modified experience for viewers using ad blockers

Wikia is not accessible if you've made further modifications. Remove the custom ad blocker rule(s) and the page will load as expected.